Class I Safari on


Sarapiquí river
Come and enjoy a serene adventure on the Sarapiquí River! Our Class I Safari tour is perfect for nature enthusiasts who are looking for a relaxing and educational experience, and who want to experience wildlife in a sustainable way without the disturbance of noisy engines. From iguanas to monkeys and crocodiles, watch all kinds of animals on the riverbanks as you ride on our rafts and enjoy the view.
In addition, we offer the option to take the trip on a raft where only the guide paddles. This makes the trip suitable for all ages and a fantastic opportunity to learn more about Costa Rica's fauna and flora. This tour will also allow you to better enjoy the landscape and observe birds with telescopes or binoculars. It will be a unique experience for nature lovers! 
Don't wait any longer, book your adventure on the Sarapiquí River with us now!
Activity
Rafting
Age
Minimum 4 years old

Duration
Approximately 2.5 hours
Suitable for
Kids / Seniors  / Pets
Important
Arrive 15 minutes before the tour start time.
Closed-toe footwear is mandatory.
Apply sunscreen sparingly to arms, the front of your legs, and the back of your neck.

Do not apply sunscreen to the back of your legs, as it can become very slippery when wet and could cause you to slip off the raft.

Avoid applying sunscreen to your forehead to prevent it from getting into your eyes and causing irritation.

Please leave jewelry or other valuable items at home as they can easily be lost in the river.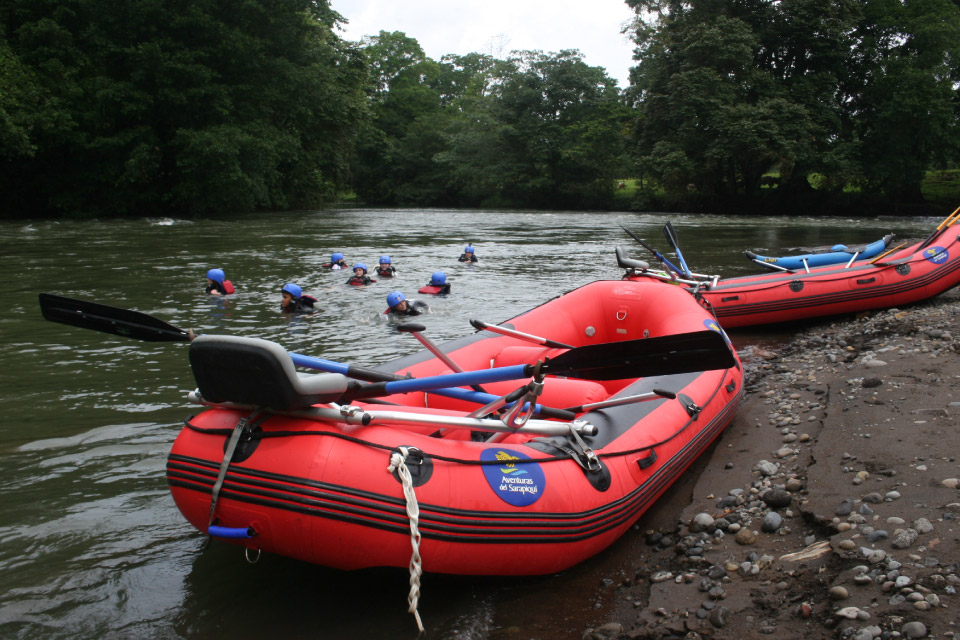 Base of operation of Aventuras del Sarapiquí
Safety equipment

Snack

Insurance

Local transportation

Certified guides
Sunscreen

Cap or hat

Sunglasses with strap
Women
Shorts

Long-sleeved T-shirt for sun protection

Bathing suit underneath the short 

Men
Shorts

Long-sleeved T-shirt for sun protection
Recommended footwear
Water shoes or diving shoes or any that can be secured to the foot

Closed-toe shoes (sneakers)

Sport or strapping sandals like Teva, Chacos or Keen

Any type of footwear that can be secured to the foot

Flip flop type sandals or just slide-in footwear

are not permitted

Barefoot individuals

are not permitted